This blog post is a

4

minute read
30 Year Celebration with MCS Diagnostics
Charm celebrates 30 years with its longtime distributor, MCS Diagnostics.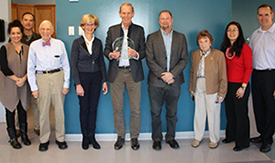 As a reliable supplier of Charm products in Germany and the Netherlands, MCS Diagnostics offers high quality analysis systems and diagnostic products from Charm Sciences. They have been a Charm distributor since 1986.
Hay Thijssen of MCS Diagnostics celebrated this 30th anniversary with a trip to Charm headquarters that took place in November 2016 to mark the occasion. Hay's visit to Charm Sciences commemorated the strong business relationship that has continued to grow through the past three decades.
About Charm Sciences
Established in 1978 in Greater Boston, Charm Sciences helps protect consumers, manufacturers, and global brands from a variety of issues through the development of food safety, water quality, and environmental diagnostics tests and equipment. Selling directly and through its network of distributors, Charm's products serve the dairy, feed and grain, food and beverage, water, healthcare, environmental, and industrial markets in more than 100 countries around the globe. http://charmdev-websitetestlink.charm.com
Would you like to improve your Product Quality and Shelf Life?
If so, have a confidential conversation with one of our food safety and industry specialists today to discover where your challenges maybe – and how we can help you fix them.