This blog post is a

6

minute read
Charm Sciences Awarded Certificate of Conformance by USDA-FGIS: ROSA FAST Aflatoxin Quantitative Test (AFQ-FAST) Identifies Grain Contamination
Today, Charm Sciences announced the company was awarded a Certificate of Conformance from the United States Department of Agriculture – Federal Grain Inspection Service (USDA-FGIS) for the ROSA FAST Aflatoxin Quantitative Test (AFQ-FAST).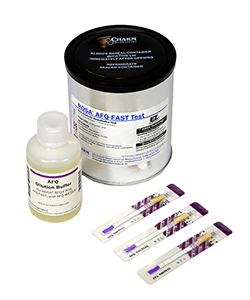 Charm's AFQ-FAST test enables feed and grain producers to detect Aflatoxins, poisonous carcinogens that are produced by certain molds that can contaminate feed and grain. Aflatoxins are found primarily in crops that were contaminated in the field or in grain contaminated due to poor storage conditions. Contamination is detected with testing strips and equipment created and manufactured at Charm Sciences' Lawrence, Massachusetts facility.
According to Mark Tess, Ph.D., Mycotoxin Product Manager for Charm Sciences, "The ROSA FAST Aflatoxin Quantitative Test delivers rapid and accurate results in three or five minutes using ROSA, Rapid One Step Assay, lateral flow technology. The test is available for use on 30 commodities, providing the most comprehensive screening test available for the feed and grain industry."
Charm's AFQ-FAST test is approved for the following commodities: corn (including dent or field corn, corn meal, corn flour, cracked corn, corn grits or polenta, and corn screenings), barley (with hull, including malting barley), brown rice, corn germ meal, corn gluten meal, corn/soy blend, distillers dried grain (DDG), distillers dried grain with solubles (DDGS), hominy (including hominy grits), millet, oats (whole oats with hull), popcorn, rough rice, rye (or rye berries, including whole grain rye flour, rye meal, cracked rye, and rye chops), sorghum, soybean hulls, soybean meal, soybeans, (including whole soybean and full-fat soy flour), wheat (including whole grain wheat flour, wheat middlings, wheat red dog, wheat flour 2nd clear, and wheat screenings).
Charm Sciences is celebrating 40 years of innovation and success as the leading global developer and supplier of food safety tests during 2018. Receiving a Certificate of Conformance from the USDA-FGIS for the ROSA FAST Aflatoxin Quantitative Test (AFQ-FAST) highlights why Charm is a trusted, accurate, and committed leader in the food safety industry.
About Charm Sciences
Established in 1978 in Greater Boston, Charm Sciences helps protect consumers, manufacturers, and global brands from a variety of issues through the development of food safety, water quality, and environmental diagnostics tests and equipment. Selling directly and through its network of distributors, Charm's products serve the dairy, feed and grain, food and beverage, water, healthcare, environmental, and industrial markets in more than 100 countries around the globe. http://charmdev-websitetestlink.charm.com
Would you like to improve your Product Quality and Shelf Life?
If so, have a confidential conversation with one of our food safety and industry specialists today to discover where your challenges maybe – and how we can help you fix them.