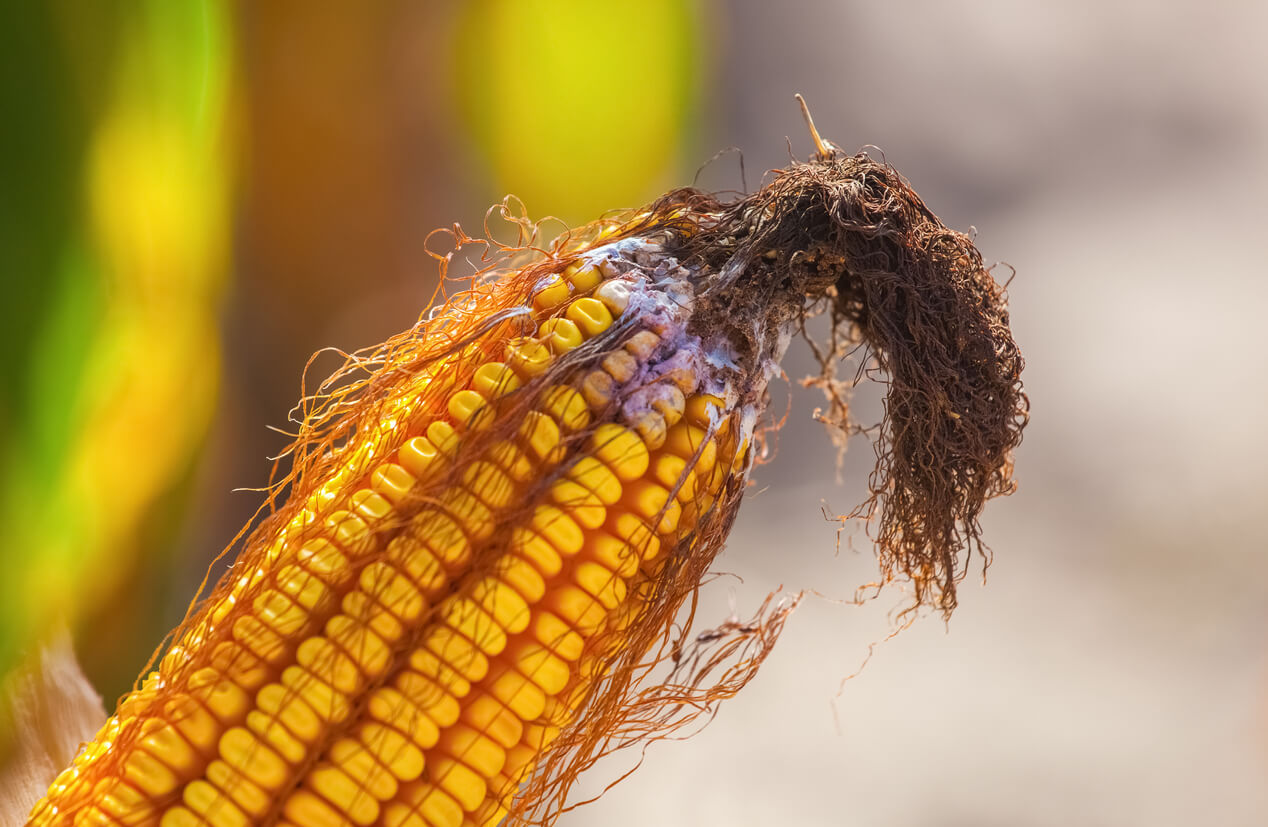 Mycotoxins are toxic chemicals produced by certain types of molds and fungi, which threatens our food supply. Mycotoxin contamination can occur during crop harvest, drying, or grain storage. Mycotoxins survive food processing and are chemically stable. 
The most problematic mycotoxins that pose a concern to livestock and human health are aflatoxin, deoxynivalenol (DON/vomitoxin), fumonisin, ochratoxin, T-2/HT-2, and zearalenone.
Mold infection of crops both before and after harvest causes mycotoxins to appear in the food chain. Exposure to mycotoxins can occur indirectly from animals fed contaminated feed or directly by consumers eating infected food.
What Are the Impacts of Mycotoxins?
Mycotoxins can cause various adverse health effects to livestock, pets, and humans. These adverse health effects can range from long-term consequences such as cancer and immune deficiency to acute poisoning.
Mycotoxins cause a toxic response known as mycotoxicosis when ingested by humans or animals. Common diseases related to mycotoxicosis include neurological and immune disorders, various hemorrhagic syndromes, hepatic diseases, alimentary toxic aleukia, various types of cancer, and nephropathy. Mycotoxins also weaken the immune system, which may lead to secondary infections.
In animals, mycotoxin can cause feed rejection and reproduction issues, along with a slew of other problems that are not conducive to farm or food production.
Who Needs to Test for Mycotoxins?
Anyone involved in the production, evaluation, storage, or transportation of feed and grains: 
Pet food suppliers:

 Testing for mycotoxins will ensure animal health while supporting your economic growth as an animal feed or pet food supplier. 

Grain elevators:

 Early detection of Genetically Modified Organisms (GMOs) and mycotoxins in grain elevators helps you make a sound decision on whether or not to reject or segregate a delivery. 

Feed & Grain Mills: 

If you work in a Feed & Grain Mill, you want to feel confident when testing your products for mycotoxins so you can make an objective decision when routing loads of grain. 

Grain production manufacturers: 

Testing for mycotoxins will ensure grains comply with regulations and will not threaten the health of humans or animals.

Food & Beverage manufacturers that use grains as a raw material: 

Food & Beverage manufacturers must ensure their products comply with legal requirements and are toxicologically safe. 

Grain inspection agencies: 

These agencies can mitigate possible health risks through the proper mycotoxin testing, drying, inspection, and storage of their grain.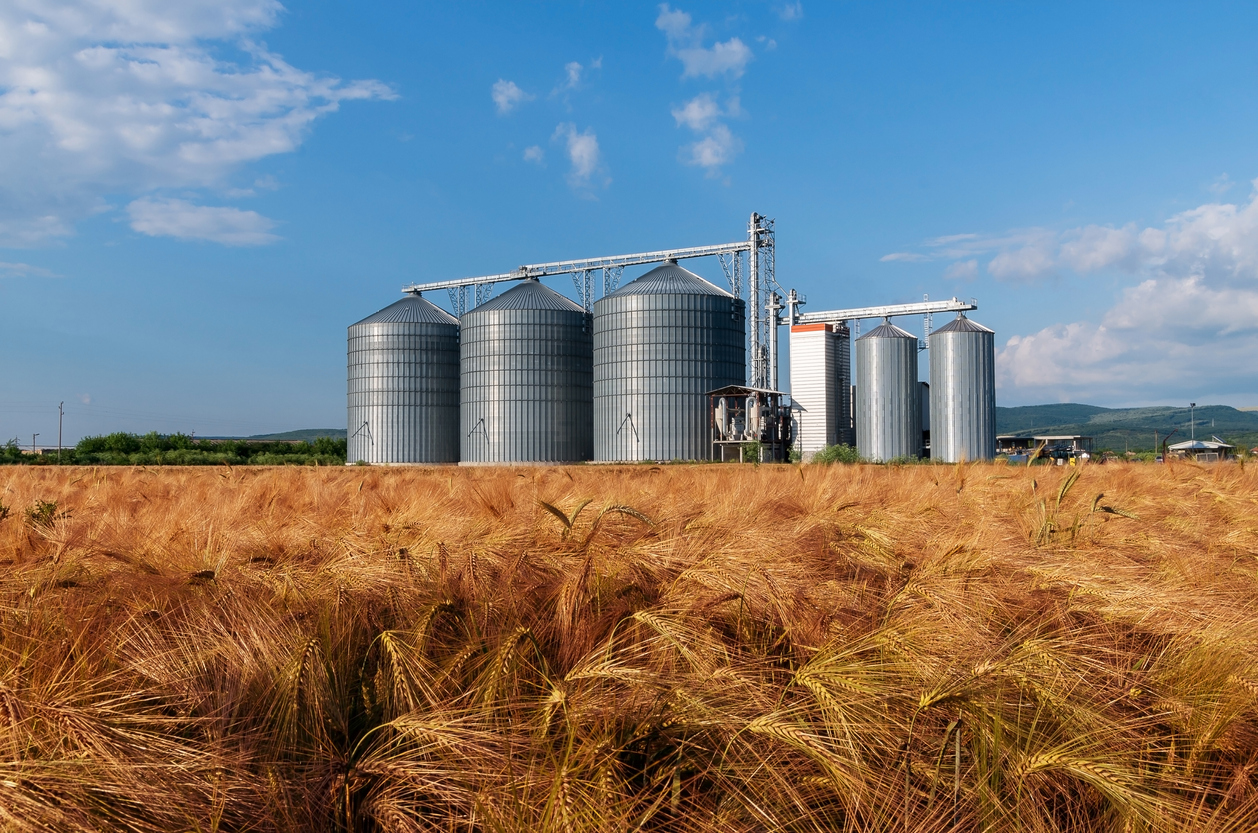 How Can You Test for Mycotoxins?
Charm Sciences designs mycotoxin testing kits that yield precise results on-site and at point-of-receipt, thereby eliminating the delay and cost of sending samples out for testing.
Charm Sciences provides a complete solution for evaluating the toxicity levels of your grain while keeping everything moving at optimal speed. 
What Grains Can Be Tested for Mycotoxin?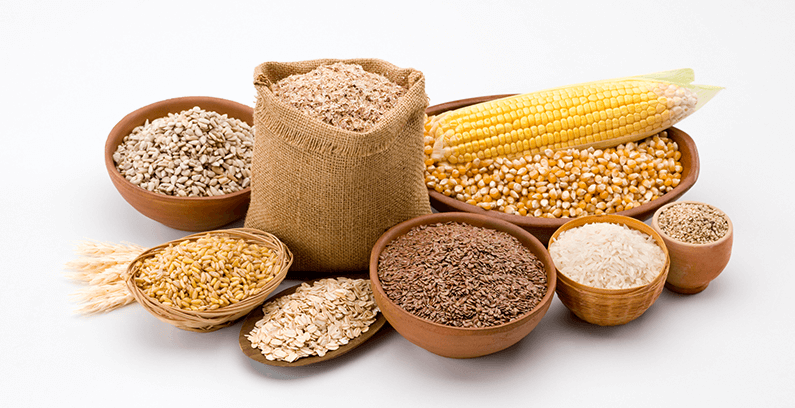 Mycotoxin analysis is an appropriate and necessary risk-management measure when handling, producing, or processing crops such as the following:
Peanut seed and groundnut

Wheat middlings or wheat midds

Wheat and wheat flour

Corn gluten feed 

Corn and cornflour

Barley

Maize

Sorghum

Millet

Rice 

Distillers Dried Grains with Solubles (DDGS)
What Mycotoxins Do We Test for and Why?
Charm Sciences offers the following mycotoxin testing kits:
Why Choose Charm Mycotoxin Tests?
Charm Sciences mycotoxin options are FGIS approved and hosts the most extensive list of approved commodities in the industry. We offer several data management solutions ranging from local to corporate-wide tracking, tracing, and trending.
Charm is the diagnostics testing supplier of choice and the global leader in manufacturing rapid tests to detect sanitation risks, microbes, toxins, and residues in a wide range of industries. 
As such, we offer 24-hour customer support and have Federal Grain Inspection Service (FGIS)-approved methods for our mycotoxin product line. FGIS ensures the integrity of inspection and is responsible for the handling and weighing of American grain, including mixed grain, sunflower seed, triticale, soybeans, sorghum, flaxseed, barley, oats, rye, wheat, and corn. 
Our team is committed to helping you provide the highest quality products and services while protecting your product and brand. We develop sanitation and food safety diagnostic solutions to prevent microbiological and chemical challenges in farm-to-table food production applications.