This blog post is a

4

minute read
Charm Sciences Marks Ten-Year Anniversary with Moroccan Distributor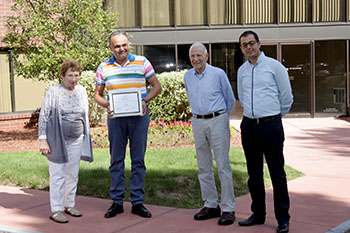 April 2017 marked the ten-year anniversary of Charm's partnership with ISOLAB, its distributor in Morocco. In a celebration of the occasion, Nabil Guennouni and Ilias Amjahad of ISOLAB made a September trip to Charm's headquarters in Massachusetts.
ISOLAB provides analytical solutions to the Moroccan Food, Pharmaceutical, Chemical/Petrochemical, and Clinical sectors. Thanks to their work, over 75% of the country's milk is tested on the Charm ROSA test, and Charm mycotoxin grain tests and ATP sanitation tests are also widely used.
Charm and ISOLAB took the opportunity to recognize the decade-long relationship, and to look forward to years of collaboration yet to come.
About Charm Sciences
Established in 1978 in Greater Boston, Charm Sciences helps protect consumers, manufacturers, and global brands from a variety of issues through the development of food safety, water quality, and environmental diagnostics tests and equipment. Selling directly and through its network of distributors, Charm's products serve the dairy, feed and grain, food and beverage, water, healthcare, environmental, and industrial markets in more than 100 countries around the globe. http://charmdev-websitetestlink.charm.com