This blog post is a

5

minute read
Charm Hosts Executives from Turkey For Dairy Safety Executive Seminar
Lawrence, MA — A delegation of dairy quality executives from Turkey was hosted by Charm Sciences at its Andover, Massachusetts facility the week of May 11, 2015. During their time in the United States, the participants discussed international systems for dairy safety and chemical residue control, hygiene management, and process verification, and received hands-on technical training in Charm Sciences' state-of-the-art facility.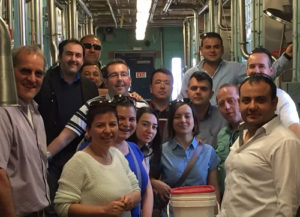 Charm Sciences worked with local dairy facilities to allow field visits for these guests. This provided invaluable experience in learning how US milk producers and processers manage dairy quality along the value channel from farm to consumer. The trips to local dairy farms focused on milk quality improvement and animal health and feed management while trips to milk testing laboratories offered insight into quality and safety monitoring and control systems. Seminar topics and visit discussions covered feed and herd management, milking, milk transport, sanitation, residue testing and end-product testing.
Steve Holmes, VP of Technical Services was very pleased with the seminars. "This is a great opportunity for Charm to interact with both our existing and potential customers. Being able to understand the interests and problems these companies face in their daily tasks enables Charm to develop products to better meet the needs in this international market. Sharing ideas in this manner is crucial in today's market."
About Charm Sciences
Established in 1978 in Greater Boston, Charm Sciences helps protect consumers, manufacturers, and global brands from a variety of issues through the development of food safety, water quality, and environmental diagnostics tests and equipment. Selling directly and through its network of distributors, Charm's products serve the dairy, feed and grain, food and beverage, water, healthcare, environmental, and industrial markets in more than 100 countries around the globe. http://charmdev-websitetestlink.charm.com
Would you like to improve your Product Quality and Shelf Life?
If so, have a confidential conversation with one of our food safety and industry specialists today to discover where your challenges maybe – and how we can help you fix them.