This blog post is a

6

minute read
Charm Sciences Announces New NCIMS Approval to Protect the Nation's Milk
Charm ROSA SULF Provides Testing to the Entire Milk Industry Supply Chain
March 21, 2018 – Lawrence, MA – Today, Charm Sciences announced the National Conference on Interstate Milk Shipments (NCIMS) approved the Charm ROSA SULF test to detect sulfonamides in raw milk. The approval was at the recommendation of the U.S. Food and Drug Administration (FDA) based on their industry data evaluation.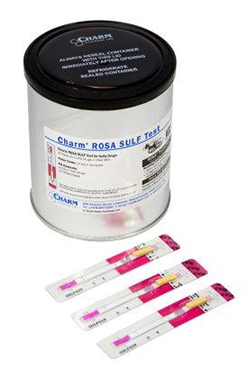 The Charm ROSA SULF test is used throughout the milk supply chain by farmers, veterinarians, truck drivers, milk receivers, and milk testing laboratories to control the use of antibiotics in maintaining animal health while protecting consumers from unintended residues in finished dairy products.
Sulfonamides are common antibiotics used on dairy farms to treat bacterial infections in animals. Due to their toxicity and ability to cause allergic reactions in humans, sulfonamides are primarily used for non-lactating animals but may be prescribed to maintain an animal's health. The Charm ROSA SULF test uses Charm's ROSA (Rapid One Step Assay), a patented technology to detect all drugs within the sulfonamide family that may be found in milk.
According to Bob Salter, Vice President of Regulatory Affairs at Charm Sciences, "The Charm ROSA SULF test is the only sulfonamide drug detection kit approved for raw milk testing since the Charm II sulfonamides test was first approved in 1995."
The NCIMS approval of the Charm ROSA SULF test now makes sulfonamide detection technology readily available and easy to use by all milk industry supply chain stakeholders. Until now, only testing laboratories used the Charm II test. The approval of the Charm ROSA SULF test highlights Charm Sciences' continued innovation in 2018 and saves the entire milk industry time, money, and milk by offering faster and earlier sulfonamide detection in the food production chain.
Salter added, "Charm submitted the new ROSA SULF test for approval at the request of milk industry. The industry saw a need to proactively deploy broad field applicable antibiotic detection methods to provide greater industry brand protection and consumer confidence."
Today, Charm ROSA milk tests are the leading residue diagnostic tests used by the dairy industry worldwide. Over 75% of the world's raw milk is tested using Charm's products. They're the only products on the market for use in the United States that test for all drugs in the sulfonamide family.
ROSA strips use Charm's patented ROSA technology to deliver fast, accurate detection in a convenient lateral flow format. Charm makes over 30 ROSA tests for antibiotic families of drugs, including individual and multiplex tests for Beta-lactams, Amphenicols, Quinolones, Macrolides, Aminoglycosides, Sulfonamides, and Tetracyclines.
Throughout 2018, Charm Sciences is celebrating 40 years of innovation and success as the leading global developer and supplier of food safety tests. All tests are manufactured at Charm's facilities in Lawrence and Andover, Massachusetts. In addition to being used in the United States, the newly approved Charm ROSA SULF test can be adjusted using a simple dilution procedure to also meet the requirements of the European Union and other countries around the world.
About Charm Sciences
Established in 1978 in Greater Boston, Charm Sciences helps protect consumers, manufacturers, and global brands from a variety of issues through the development of food safety, water quality, and environmental diagnostics tests and equipment. Selling directly and through its network of distributors, Charm's products serve the dairy, feed and grain, food and beverage, water, healthcare, environmental, and industrial markets in more than 100 countries around the globe. http://charmdev-websitetestlink.charm.com